The history of La Garde Guerin

During the 11th century, a garrison was built in the village, creating a type of police, designed to ensure the safety of the travellers. To pay for this, some charges were collected, especially toll charges (on all goods or travellers who passed that way), guiding charges (for protection of travellers and goods), cartelage charges (on foodstuffs which were measured a la carte), pulverage charges (when passing flocks raised dust!) and many other charges. Thenceforth La Garde-Guerin established a secular community vassal system, organised according to the headmasters of Knighthood Schools and advocating equal rights and duties for everyone. This phenomenon was unusual in France at that period but was never equalled and grew into the "Chevaliers pariers" (so called because they were equal in rights). Although Aldebert III (Bishop of Mende) could not even know what had occurred there, after several attempts, in 1163, he succeeded in besieging La Garde, leading a group of noblemen whom he had convinced of the excessive cost of the rights and the unfair behaviour of the "Chevaliers pariers". Then, La Garde was put into the care of the Guerin du Tournel Family, which is why the village was called La Garde-Guerin. The "Chevaliers pariers" shared the seigneury and each owned a house with a well. The houses were separated by very narrow "streets" (about 12 inches wide! ) called "Pans du Roi"; this was to delimic their properties, creating independencc, whereby "everyone should look to his own affairs".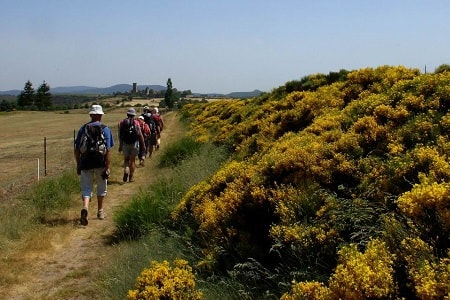 In 1258, 31 properties were counted. Even now it is still possible to see same 31 houses ! From 1260 the "Chevaliers pariers" elected 2 a year who took the oath in front of the bishop. They were in charge of the sharing out of the incomes and the upkeep of the way.
In 1367, Louis d'Anjou, Count of Maine, second son of the King of France and lieutenant in Languedoc, instituted a three day's fair for Saint Catherine's day - November 25th - and a market on Mondays.
In 1721 this fair was moved to the 29th of September (Saint Michel's day: patron saint of the village).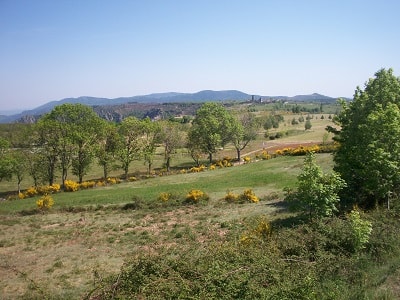 In the 16th century, the Bishop of Mende, Renaud de Beaume, sold his shares in the village to the lord of Morangies who then held the majority. By the end of the 16th century, during the wars of religion, the castle and the village were burnt. The village was immediately rebuilt by the heirs of the "Chevaliers Pariers". Its Renaissance style is called "Regordanien", locally linked to the Regordane Way and to certain architectural features, for example carriage entrances that can be seen in the church street in Villefort and also in other villages located along the Regordane Way.
In 1722, the castle was burnt once again because of the carelessness of a farmer. This happened because the owners preferred to go to Versailles, and let the castle to the farmers who did not take care of it. All the old rights and charges were at last abolished during the French Revolution of 1789.
In 1795, while the castle was in ruins because of the fire, one of the towers fell down on a house and killed most of the inhabitants. The building of the present road began in 1840. The Regordane Way was then only used as a transhumance way, for moving animals to seasonal pastures.
In 1929, the castle, the donjon and the church were listed as Historic Monuments and the village became a registered site.
In 1992, La Garde-Guerin was granted the label of one of the finest villages in France ("Plus Beaux Villages de France").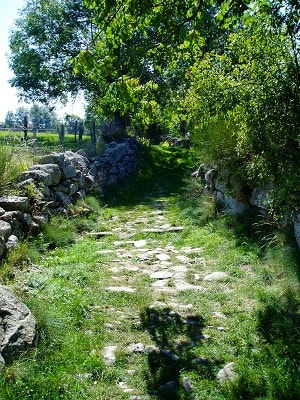 The Church: Supposedly dating from the 12th century, the church is in a Romanesque Provencal style dedicated to Saint Michel. The barrel vault: is made of freestone.
The crossing of the nave and the apse are supported by a double salient arch which is built on pillars.
The capitals are all different. They are all sculptured, sometimes with designs of leaves, flowers or animals, sometimes with enigmatic biblical people.
The top of the columns are often aderned with a checked pattern.
The chancel: is ornamented by harmonising arches with small columns or simple capitals. Two stained- glass windows let the light in. There is a small tornb cut in the rock under the chancel where the Consuls of the "Pariers" of la Garde were buried.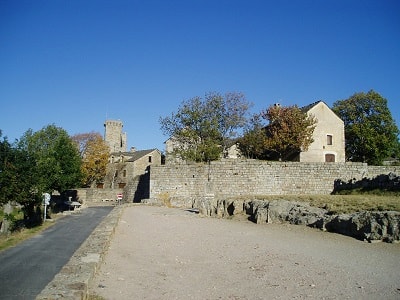 The portal: is made of three moulded projections up to the tympan. They are carved in massive stone. The small opening up to the door lights up the altar at sunset.
The bells: One of the bells dates from 1643. They are hung up on the arches and form what is called in French 'clocher-mur", literally "wall steeple". On both sides, we can see some buttresses which support the vault's outward thrust.
The Castle: It is situated on the most north-easterly point of the village, which is the least accessible place, the easiest one to defend. A bishop's organization in 1058 recorded the existence of the castle of la Garde. We can imagine from the ruins that there were successive reconstructions and transformations of the castle during the 16th and 17th centuries, especially during the Religious Wars.
The Tower: The time of its construction is undetermined (between the 12th and the 14th century). It is 21.50 metres high, it is a three storey vaulted tower; the first floor is to store food and the others to live in. There used to be another floor but it has been destroyed.
The Ramparts: Many were demolished to give the village more daylight and the ditches were filled with the stone from the ramparts. Depending on the area, the remaining ramparts can reach 8 to 10 metres high with an average thickness of 1.65 metres. They are constructed of regular sandstone blocks that are blackened by the sun. They were originally surrounded by wide ditches cut into the rock, except at Chassezac where the rarnparts stood on the edge of the cliffs. Lots of them have been rebuilt; from the original period only a few remain.
The History of the family of the castle La Garde-Guerin
From Diane Morang to all my lost Family with the armorial bearings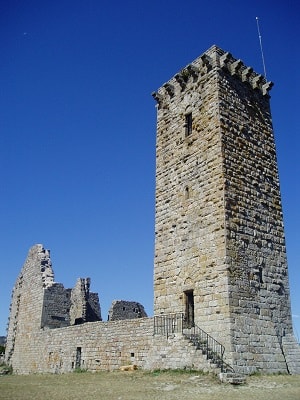 In "Armorial General," by J. B. Rietstap, we find only one blazon of the arms of the Morange Family: "D'azur a trois cherubins (cherubims?) d'argent." The family which bore those armorial devises (devices?), it is said, was of "Lyon." As a matter of fact, there never was a "family" of this name that bore these devises (devices?) if we, with "family," understand at least two generations. This armory was granted to Bedien Morange (Morangies?), "Theologien francais," born in Paris, 1638, who died in 1703, in Lyon. He was Vicar General of the Diocese of Lyon, and left no issue. For an historical account of his life, see Lyonnais dignes de memoire, II., 192. Revue du Lyonnais, V., 193. The de Morangies family, as it was originally written, took its surname from an estate in Languedoc, previous to 1444. The name was previously Molette, which was retained, the family being known as Molette de Morangies in the main line, and simply Morange in the off branches. It was a family of very ancient origin, appearing first in Languedoc, and distinguished for its alliances and important military services.

Languedoc was, before the Revolution, one of the most extensive and important provinces of France. It was bounded on the north by Lyonnais and Auvergne, and by Rouergue and Querci, subdivisions of Guyenne; on the east by the Rhone, which separated it from Dauphine and Provence; on the south by the Mediterranean, the province of Roussillon, and the Pyrenees; and on the west by Guyenne and Gascogne. (Typist's note: the original document lacks punctuation, and has been added, as believed appropriate, by typist. Please correct, if necessery.)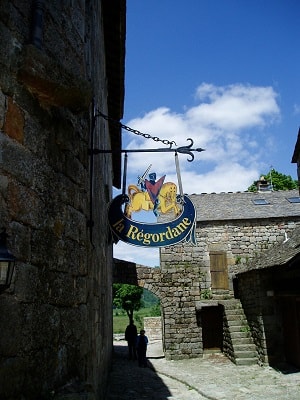 The family appears first in 1237, when we find that one
I. Bertrand de Molette had, in January of that year, certain lands from Raimond de la Garde, in Languedoc. Bertrand de Molette had, March, 1248, from Guillaume Blanc "et Agnes sa femme, un fief noble." He had, in May, 1258, from Barthelemi and Guillaume Merle, another "fief noble." In the same year, we find that he occupied the "Chateau (castle) de la Garde-Guerin."
May 17, 1264, Bertrand received from Guion Chanier, Notary, Bertrand de Peyrenal, Bernard de Magotes, Bertrand de Molette, "co-seigneurs" (joint lords of a manor) of la Garde-Guerin and of Hugen de Garde-Moyenne, prior of Prevenchères, certain land in Languedoc. His son Barthelemi de Molette had, November 12, 1293, of Thomas de la Garde, additional lands at la Garde. He sold, January 10, 1310, to Helix de Planchamps, widow of Guillaume de Beauvoir, a moiety and lands of la Garde, which sale was ratified by Catherine, his wife and by Jean and Bertrand, their sons. Of these sons Bertrand de Molette was styled a "chevalier" (knight) and co-seigneur (joint owner) of la Garde-Guerin. In his will, dated December 18, 1330, he mentions his son Jean de Molette seigneur de la Garde-Guerin. He had, September 5, 1392, considerable property by Agnes de Chateauneuf, who probably was a relative. Jean married, by contract, dated July 5, 1395, Jeanne de Peyrebasse, daughter of "le noble Raimond de Peyrebasse."
The Peyrebasse family was of Guyenne, which adjoined Languedoc, and bore as armory: "Au 1 de sinople a un flambeau a deux chandelles allumées d'arg." Jean made his will August 13, 1425, in which he mentions his children. Jean, of whom presently. Claude. Leons, who married Armand Firmin. Amaradge, who married Jean de Fontaine. Miracle, who married "le Seigneur de Monteil des Vaus. Raimond.. Philippe, who married Josselin de la Garde, Seigneur de Chambreses; with the eldest son appears the name Morangies for the first time.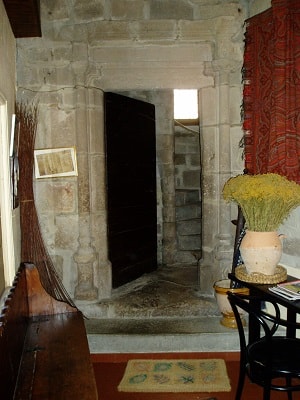 Jean de Molette chevalier (knight), Seigneur de Morangies, co-seigneur de la Garde, married, by contract, December 31, 1444, Helix de Grille, daughter of Bertrand de Grille, of the diocese of Saint Fleur. The Grille family of Languedoc bore as armory: "Des gueules a la bande d'argent chargé d'un grillon de sable." They were enobled to Marquises in April, 1684. It does not appear from whom Jean de Molette inherited the Morangies property, but, as the Peyrebasse family occurred as proprietors of a place called Morangies, it was easy to conclude that he had these lands from his mother, Jeanne de Peyrebasse. Jean de Morangies made his will November 4, 1466, and a codicil on February 7, 1477, in which he mentioned his children. Azias, of whom presently. Claude. Guigon. Jean, prior of Guillostre. Claude, who married Antoine Falcon. Delphine, who married Gilbert de Malbac, seigneur de Briges.. Jeanne, who married Jean de Pierre, seigneur de la maison de Bernis, and progenitor of that line. Catherine, abbess of Saint Gernieux; Azias de Molette-Morangies chevalier (knight), seigneur de Morangies, joint owner of la Garde-Guerin, married, by contract, April 30, 1487, Marguerite de Herail, daughter of Jean de Herail and Gabrielle Budes. In his will, dated November 23, 1498, he mentions children. Louis, of whom presently. Claude. Guigon. Anne. Francoise. Louise.. Gabrielle. Antoinette;
Louis seigneur de Morangies, joint owner of la Garde-Guerin, etc., in his will, dated May 25, 1546, he mentions children. Claude, of whom presently. Charles, seigneur de Felgerolles. Gui, destined for the church. Louise. Gabrielle. Anne.. Marguerite, who married in 1556 Jacques d'Isar de Villefort. Claude seigneur de Morangies, Ambassador of Henry II, King of France, to the Ottoman court, was, February 16, 1563, appointed by Charles IX, master of the stables, a very high post in those days, and received in July, 1572, the Order of Saint Michel. He married, by contract, June 10, 1555, Francoise Guinoard, daughter of Claude de Guinoard, seigneur and Baron de Reure, de Grisac, de Banc, de Saint Florens, etc., and Florette des Poredets-de-Maillanc. In his will, dated September 11, 1576, he mentions children. Antoine, of whom presently. Charles. Jean-Antoine. Baltuzard, who was knighted, and received the Order of Saint Jean de Jerusalem 1579 (Knights Templar?). Francois, seigneur of Ombret, Recour, etc. He made his will May 9, 1655, in which he mentions his children: A. Charles, of Plagnac, B. Antoine, of Provenchises (probably Prevencheres), C. Hugues, D. Francois. Francoise, who married Louis de Cubieres, seigneur de Cheylar and Pousilbac.. Gabrielle, who married Henry (Henri?) de la Garde. Anne.

Antoine married, by contract, February 9, 1571, Marie de Naves, daughter of Claude de Naves, seigneur de Mirandol. He made his will May 25, 1586, mentioning children. Francois, of whom presently. Charles. The Naves family had a grant of arms, January 15, 1647: "D'azur a une fasce ondes d'arg." François the eldest son, seigneur de Morangies de la Garde-Guerin, seneschal of Alteyrne, Veilles-Passis, Baume, joint owner of Villefort, Marquis de Morangies first chamberlain to Monseigneur, the brother of King Louis XIII, January 8, 1631, tutor of the royal children, July 23, 1634. He married, by contract, February 19, 1608, Marie de Louet de Colvisson, and made his will, December 9, 1636, in which he mentions children. Charles, of whom presently. Marie, who married Nicholas de Chantel, seigneur de Contras. (Situated a few miles northwest of Bordeaux.). Francoise, a nun. Jeanne, a nun. Gabrielle, who married, 1640, Francois d'Alboy.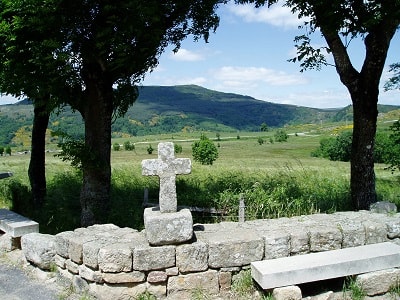 Charles Baron de Morangies, etc., had a commission from King Louis XIV, May 26, 1651, to form a company of cavalry, and received two letters, one from His Majesty, October 28, 1652, and another from Monseigneur, the King's uncle, of October 29, to rejoin the army in Italy with his company. He was brevetted by Royal Edict, July 4, 1665, to the baillie of Gevaudan and Governor of the town of Marvejols. He married, by contract, June 21, 1639, Marguerite Felice de Montmorency, and made his will, August 2, 1682, and mentioned children: Charles, of whom presently. Scipion, who died at Dunkerque as Lieutenant Colonel of a regiment of Allnis. Jacques Louis, who accompanied the Prince of Conti, and died without issue. Annet, chevalier de Malta (Knight of Malta), commendant of the Order of Saint Felix, died as Governor of Orange. Francois, abbot of Morangies, and prior of Prevenchères. Joseph. Hyacinthe, abbot of Pylaumes.

Charles Comte de Morangies, Marquis de St. Alban, Baron de la Garde-Guerin, seigneur de Pylaumes, etc., served in Hungary under Marchal de Coligny, returning to France in 1664. He was Governor of Marvejols 1677-1681. He married, by contract, January 10, 1668, Catherine de la Fare, daughter of Charles de la Fare-Laujere, Marquis de Montelar, Lieutenant General of the Royal Army, the Governor of Roses. He made his will in 1714, mentioning only one son: Charles-Auguste Colonel in a regiment of his name, knight of The Royal and Military Order of Saint Louis, Brigadier-General in the army and killed in 1705 at the siege of Chives (Chivas?) in Italy, aged 30. He married, by contract, February 5, 1703, Francoise de Chateauneuf, and had two children. Pierre Charles, of whom presently. Marie Charlotte, a nun in the cloister Panthemost in Paris.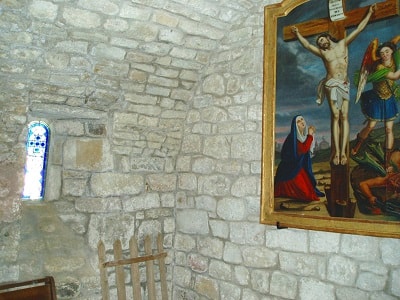 Pierre-Charles de Morange Marquis de St. Alban, Baron de la Garde-Guerin, Comte de Morangies, was, successively, a Captain, a Sub-Lieutenant, and Lieutenant-General of the Royal Army. He married, by contract, December 31, 1726, Louise Claudine de Chateauneuf-de-Randon, daughter of Jacques Thimotes de Guerin de Chateauneuf-de-Randon, and had issue: Jean Francois Charles, Colonel of a regiment; married Marie Therese de Beauvilliere de St. Aignana, and had a son: A. Francois Paul, who died as Captain of a regiment of infantry, having married Charlotte d'Aignon des Hubas, and having a son: Francois Hyppolite (Hypolite ?) Charles, Comte de Morangies, who married, 1806, Adelaide l'Anglade du Cheyla de Montgros.
Jean Anne, Vicomte de Morangies and St. Alban, Marchal of the Royal Army, Colonel of a regiment, and Commander-in-Chief of the national guards of Languedoc, and knight of The Royal and Military Order of Saint Louis. He married, January 31, 1781, Margaret Therese de la Vaysiere de Cantoinet, and had issue: A. Jean Adam Guillaume-Gustave, born in Languedoc, April 10, 1791, married July 18, 1813, to Albertine Marie Zoe, a daughter of d'Antoine Bonne, Marquis de Regnauld de Parcieu, conseiller to the French Ambassador to the Court of Vienna, and had a son: Adam Francois, born November, 1815.
Jean Adam, of whom presently; Alexander, Grand Vicar of Auxerre. Michaelle, who died without issue. Jeanne, who died without issue.

Jean Adam de Morangies born about 1733, married November 5, 1763, Marguerite, daughter of Benjamin Blondel, of Bordeaux, and removed thither, being the progenitor of the branch there, to which branch belonged Benjamin Morangies who was born in Bordeaux, according to family tradition, about 1765, marrying there a daughter of the Mayor. It is not improbable that he was a son of Jean Adam de Morangies and Marguerite, daughter of Benjamin Blondel, who married two years earlier. There was a minister to the Court of Spain in 1811, by the name of Benjamin de Morangies, and on the 6th of March, 1815, we find a Benjamin Morangies styled "General" and Commander of the Department du Var, as having reunited at Frejus the garrison of Dragerigran and the national gardes. The order, Legion of Honor, was instituted by Napoleon in 1802, and from 1807-1812, 29 ministres plenipotentiaries were given the cross of the Chevalier of that order. The armorial bearings of this family are: "D'azur, au cor-de-chasse d'argent, lie de gueules, et accompagna de trois molettes d'eperon d'or; couronne de marquis." Supporters: Deux lions couronnes d'or.

Old romantic Hotel, L'Etoile Guest-House is a mountain retreat in the South of France. With a beautiful park along the Allier River, L'Etoile Guesthouse is located in La Bastide-Puylaurent between Lozere, Ardeche and Cevennes. Many hiking trails like GR7, GR70 Stevenson trail, GR72, GR700 Regordane way, Cevenol, GR470 Allier river, Margeride, Gevaudan. Many Hiking loops around L'Etoile Guesthouse. The right place to relax.
Copyright ©la.garde48.free.fr